News
2021 In Review Part 4: Physical Therapy Knee-Related Conditions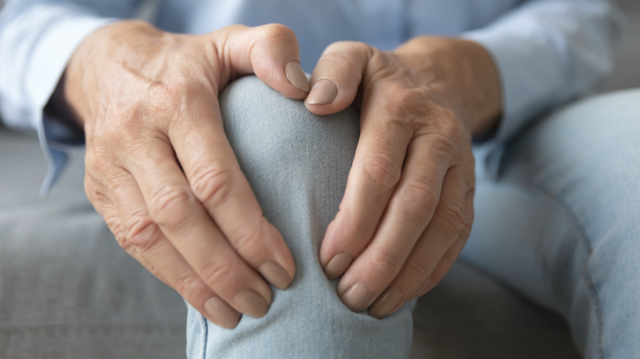 The knee is the fourth and final region of the body we're going to examine, as it ranks up there with the back, neck, and shoulder as one of the most common regions in which pain develops. Knee pain is especially common in athletes of sports that involve lots of cutting motions and is the leading cause of disability in older adults, but sports and advanced age are far from the only factors that can increase the risk for knee problems.
The knee is the largest and one of the most complex joints in the body, and its complexity is one of the main reasons it's so vulnerable to injury. The frequency with which it's used also plays a significant role. The knee is a hinge joint that's responsible for bearing weight and allowing the leg to extend and bend back and forth with minimal side–to–side motion. It primarily joins the thighbone (femur) to the shinbone (tibia), but also includes the kneecap (patella) and other lower leg bone (fibula). The patella is a small, triangle–shaped bone that sits in the front of the knee within the quadriceps muscle, and it's lined with the thickest layer of cartilage in the body because of the massive forces it takes on.
In children and adolescents, most cases of knee pain are caused by traumatic injuries that typically occur in sports with lots of cutting movements like basketball, football, and soccer. Sprains of the ligaments and strains of the muscles and tendons are most common, but the meniscus, ACL, and other ligaments can also be torn from strong forces upon the knee. Later in life, some knee issues occur less often while others become more likely to emerge. Knee osteoarthritis accounts for most cases of knee pain in older adults, affecting about 45% of this population. Common symptoms include pain, stiffness, and swelling that makes it incredibly difficult for these individuals to walk and move the knees normally.
The risk for traumatic injuries (eg, sprains, strains, and tears) also remains high for adults that stay active in sports and physical activities, and the risk overuse injuries tends to increase with older age because of the gradual breaking down of structures that occurs over time. Common overuse injuries of the knee include the following:


Patellar tendinopathy (jumper's knee): results from repeated strain of the patellar tendon that attaches the bottom of the patella to the top of the tibia; symptoms include pain and stiffness at the front or below the patella and/or in the quadriceps, and an ache that typically develops after from exercise


Patellofemoral pain syndrome (runner's knee): involves the patella rubbing against the groove of the femur and accounts for up to 25% of all running injuries; common symptoms are a dull pain behind or around the patella, which may be aggravated by running, squatting, climbing stairs, or sitting


Patellar instability: a general term used to describe intermittent pain that comes with the feeling of the patella moving excessively or being unstable; symptoms are pain that's felt under, around, or most commonly, in front of the patella


Iliotibial band syndrome: an injury in which the iliotibial band—which runs from the hip to the top of the tibia—becomes irritated or inflamed from rubbing against the patella; symptoms include pain on the outside of the knee or hip that usually arises after running


For knee pain that doesn't improve with at–home exercises, see a physical therapist
If you find yourself dealing with knee pain, either from a traumatic incident or due to sustained damage over time, one of the first steps you can take is to try managing it on your own at home with some targeted exercises. These include stretching exercises like the quadriceps stretch, hamstring stretch, calf stretch, and knee range of motion exercise, and strengthening exercises like the wall sit, bridge exercise, single–leg heel raise, and partial lunge. If these exercises fail to produce notable improvements, the next step is to see a physical therapist, preferably sooner than later.
Physical therapists frequently see patients with all types of knee–related conditions and are adept at creating treatment plans that are tailor–made for each patient's specific condition, abilities, and goals. A typical treatment program for knee pain will include the following:


Strengthening exercises to build back up the weakened muscles of the leg


Stretching and range of motion exercises to increase flexibility and regain normal mobility


Plyometrics, or jump training (especially for patients recovering from ACL tears)


Recommendations on how to modify activities to minimize the risk for future injuries


Exercises to improve body awareness, balance, and neuromuscular control, which is the body's ability to stay strong and stable during all movements


Activity–specific training for athletes and active individuals


Research has shown that physical therapy can significantly improve patient outcomes and help them avoid knee surgery in certain cases. One powerful study called a randomized clinical trial found that physical therapy led to similar improvements in physical function when compared to surgery for patients with meniscus tears, while a follow–up analysis of this trial showed that physical therapy is more cost–effective than surgery for meniscus tears. A systematic review and meta–analysis of 14 studies also found that manual therapy, an important component of most knee treatment programs, is likely to be effective and safe for improving pain, stiffness, and physical function in patients with knee osteoarthritis.
As we've shown you in these posts, seeing a physical therapy is nearly always the smartest, safest choice you can make if you're dealing with pain or dysfunction in these four regions or anywhere else in the body. Therefore, if pain is holding you back from living your life or being as active as you'd like to be, we invite you to come in for a visit and witness first–hand what physical therapy can do for you.
On behalf of our staff, Happy Holidays, and we'll see you soon.
December 28, 2021
Back to Health Blog